INTERNALLY FUNDED SCHOLARSHIP
REQUIREMENTS
Granted to students with System Admission Scholarship Examination (SASE) of 100 and above regardless of campus preference.
BS Students with CGPA of 1.50 or better for 2 semester and carrying the prescribed academic load of at least 18 units (including PE).
GRADE MAINTENANCE
Scholar must maintain of CGPA of 1.75 or better, with no failing grades in any subject and carrying at least 18 units unless provided in the curriculum.
PRIVELEGES 
Monthly Stipend

700.00 pesos AHIME ( Accountancy, HRM, Information Technology, Management (BA), Education) 
 1000.00 pesos AFNS (Agriculture, Fisheries, Natural Sciences)

Free Tuition & Other School Fees

for students without external sponsors

Free Dormitory Accommodation
Semestral Book Allowance

200.00 pesos for 1st and 2nd year students.
500.00  pesos for 3rd, 4th, 5th year students.

Round Trip Transportation

Allowance from Home to MSU Naawan once a year ( not to exceed 1,000)
Special Incentives for Academic Excellence
REQUIREMENTS ( Grade Point Average GPA)
  Semestral Academic Recognition
Granted to all students who will qualify with: 
GPA Requirement

Dean's List: 1.51-1.75
Vice Chancellor's List: 1.26-1.50
Chancellor's List: 1.01-1.25
President's List: 1.00

Academic Load

Carrying prescribed academic load of their respective curriculum.
PRIVILEGES
Dean's List

Certificate of Recognition

Vice-Chancellor's List

Certificate of Recognition

Chancellor's List

Certificate of Recognition

President's List

Certificate of Recognition
Talents/Skills Study Grant
REQUIREMENTS 
  Talents/Skills Study Grant

Granted to students with skill and talents (sports and the arts)
Regular member of the talent performing and athletic groups
Passed all subjects in at least 18 units academic load
Shall be recommended by Coordination (Cultural/Sports)
PRIVILEGES 
All Recipients 

Discounted tuition and miscellaneous fees for members recommended by Coordinators and met the conditions above.
EXTERNALLY FUNDED SCHOLARSHIP
Bureau of Fisheries & Aquatic Resources (BFAR)
Bureau of Fisheries & Aquatic Resources (BFAR)
Region VII
Region X
Region XI
Region XII
Region XIII
Commision on Higher Education (CHED) Scholarship
Commission on Higher Education (CHED) Scholarship
Student Financial Assistance Program (StuFAPs)

Full Merit Program
Full Scholarship
Partial Scholarship

Department of Agriculture -Agriculture Competitiveness Enhancement Fund – Grant-in-Aid in Higher Education Program ( DA ACEF-GIAHEP)
Scholarships for Instructors' Knowledge Advancement Program - SIKAP Grant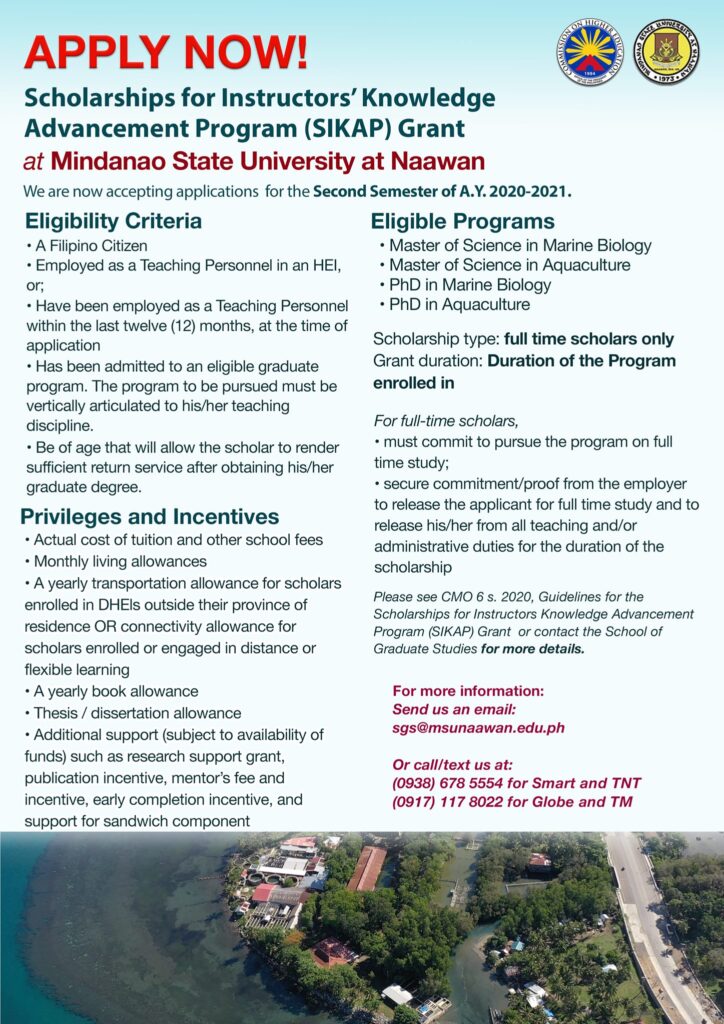 Other Funding Agency
Coco Foundation, Inc.
HEED Foundation, Inc.
Republic Cement Mindanao, Inc. (SDMP)
Development Bank of the Philippines – Resources for Inclusive & Sustainable Education (DBP – RISE)
National Commission on Indigenous Peoples